Enclosures for Vestibules, Dining Areas & Sidewalks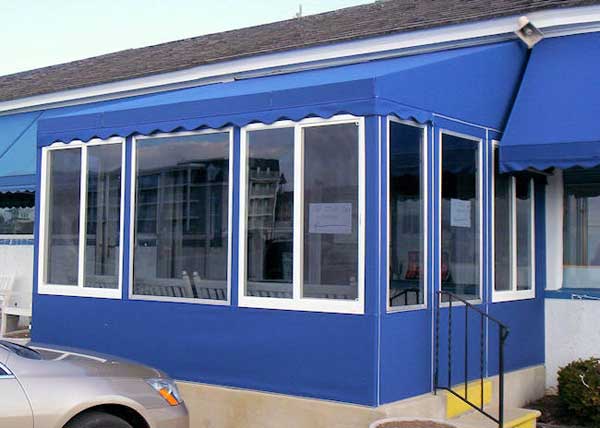 Business owners use vestibule enclosures to provide shelter to their customers as well as expand their outdoor spaces. At Bill's Canvas Shop, we can design and install custom vestibule enclosures and sidewalk enclosures to fit any type of entrance, exit or outdoor dining area and create protection for your customers and your building.
Exclusively available to our commercial clients, the vestibule enclosures fabricated by Bill's Canvas Shop are durable and long-lasting, yet more cost-effective than traditional construction options. We provide full design, manufacturing and installation services at our state-of-the-art facility in Woodbine. Our staff can ensure that your vestibule or enclosure will meet all local requirements before it is installed.
How Will a Vestibule or Enclosure Help My Business?
A vestibule enclosure added onto your main building has many benefits for your business. Whether you own a restaurant, store or even a medical facility, adding one of these structures onto your property can:
Reduce energy costs by keeping your heating or cooling in your main building.
Act as a windbreaker to protect your guests and clients.
Advertise your business and announce your entryway.
Extend the seasonal use of your space.
Increase seating in your restaurant or banquet facility.
Act as a smoking enclosure to abide by building policy.
Our team can help you decide if a vestibule enclosure would be the right fit for your business and talk with you about design options, colors, fabrics and printing your logo or business name to ensure your advertising is visible at all times.
Book a Consultation With Us
Let us help you review your options for vestibule enclosures for your commercial spaces. Contact Bill's Canvas Shop today by giving us a call at (609) 861-9838 . You can also submit your information through our contact form and we'll be in touch soon.