Residential & Commercial Shutters & Shades
Bill's Canvas Shop manufactures shutters and shades for residential and commercial clients. Whether you're a homeowner, a contractor or an architect, you will find our shades and shutters deliver exactly what you're looking for: performance, quality, convenience and aesthetic appeal. Learn more about our different kinds of shutters and shades below.
Shutter & Shade Options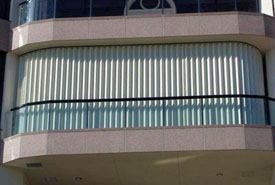 Accordion Shutters
Accordion hurricane shutters are designed to cover windows, sliding glass doors or enclose balconies. Both curved and removable tracks are available to fit your specific balcony and not to take up valuable floor space.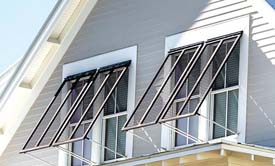 Decorative Bahama Shutters
Decorative, architectural style Bahama shutters are available in a variety of colors and sizes. These shutters aren't removed seasonally: once installed, they stay on the house year-round. Bahama shutters are one of the most efficient for manufacturing, meaning we can complete your installation faster.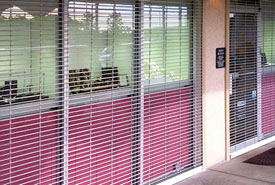 Security Rolling Grilles
Roll down security grilles are the security systems that have gained the most popularity for retail and commercial protection. By using the unobtrusive grille system, a property is able to be secured overnight while still allowing shoppers to view merchandise after-hours.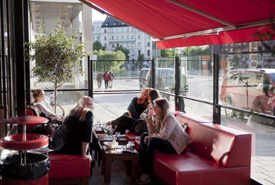 Adjustable Wind Glass Screens
Invest in protection for open-air environments. Adjustable wind glass screens are ideal for terraces, balconies, decks and patios on both commercial and residential properties. Protect your family, clients or guests from the wind and provide more comfort without sacrificing the view. These screens are shatter-proof, height-adjustable and come with optional frosted privacy glass.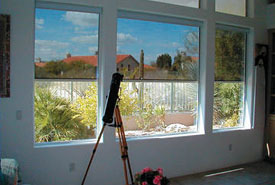 Interior Solar Shades
Interior solar screens add function, style and efficiency to homes and businesses with the latest in solar protection. Solar screens offer you the choice of how much sun to allow in your space, giving you control over light, heat gain and privacy.
Contact Us Today to Learn More
If you're interested in shutters and shades for your property, reach out to Bill's Canvas Shop today to learn more about our product options. Call us at (609) 861-9838 or let us know what you're looking for by using our online contact form.