Professional Awning & Canvas Cover Cleaning
We highly recommend that you clean any outdoor fabrics you have every few years to prolong the life of awnings, canopies, truck and boat covers. Bill's Canvas Shop offers awning cleaning and repair services, as well as canvas cover cleaning and repair. All cleaning and repairs are performed on our premises in Woodbine.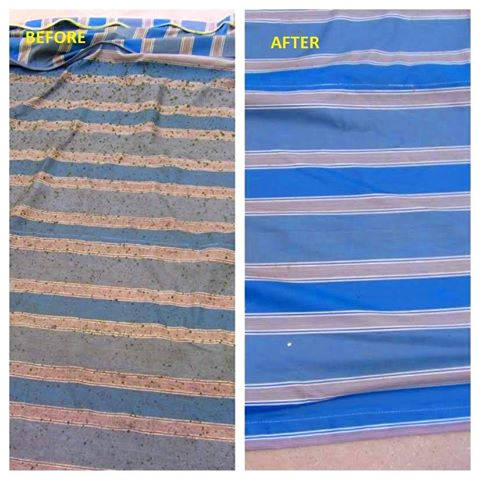 To clean your awnings, canopies, curtains and canvas covers, we use professional cleaning products that gently but thoroughly remove the embedded dirt, grime and mold without damaging the fabric. We do our fabric cleaning by hand and air-dry everything for a gentle yet thorough cleaning process. 
During the cleaning process, we also reapply a repellent to ensure your outdoor fabrics continue to resist water, mold, mildew, rust and sun damage.
Why Cleaning Awning & Cover Fabrics Is Necessary
Awning cleaning is one of the most beneficial methods to keep your awning or canvas cover investment looking beautiful for many years. You can keep your fabric attractive whether you use them for your business or your home.
For businesses especially, professional cleaning services can ensure your business always makes a great first impression, whether you use awnings, canopies or curtains to protect clients or to advertise your business—or both.
Besides the aesthetic aspect of awning cleaning, keeping your fabrics clean helps to sustain their life, preventing damage from water, sunlight, mold, mildew and fading. The canvas cover cleaning we provide at Bill's Canvas Shop can help maximize your investment and keep your home or business looking great.
Contact Us Today for an Estimate
Interested in awning or canvas cleaning for your home or business? Contact Bill's Canvas Shop today to get an estimate! Call us at (609) 861-9838 or let us know where we can reach you using our online contact form.