Fixed Canopies
Stationary Awnings & Canopies for Businesses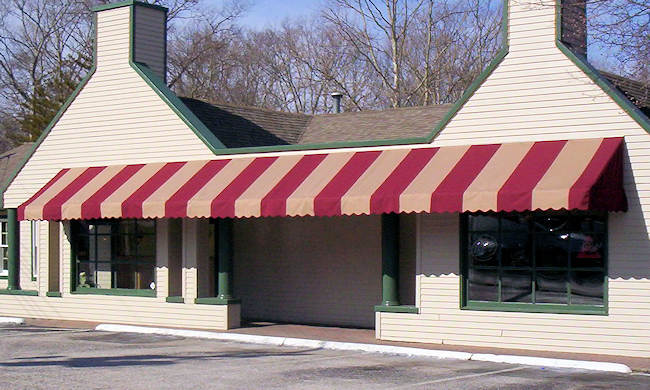 Quality awnings and canopies begin with quality materials and manufacturing. We do our awning fabrication in-house at our state of the art facility in Woodbine, NJ.
Unlimited custom-designed styles: from traditional to modern, available in a wide selection of fabric types and densities, including solution dyed woven acrylics, vinyls and fire-retardant. If you can imagine it chances are we can build it.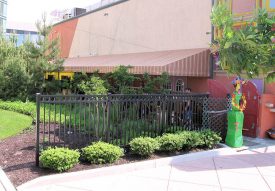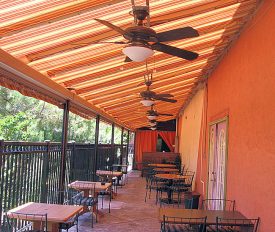 Fixed Window & Door Awnings
Our Fixed Frame Window Awnings are available in standard shed style or can be customized with a variety of shapes and fabrics. These window and door awnings are welded frame with the fabric stretched over the frames. These awnings are not retractable. You can have graphics added to these canopies.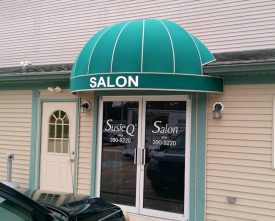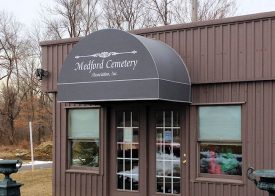 At Bill's Canvas Shop we offer top quality awnings, from small door hoods to elaborate entrance canopies. We can manufacture new covers for your existing awnings and to give a fresh look.  Our fire retardant vinyls and acrylics will meet the strictest commercial codes and still provide years of weather protection as well as a positive image for your business!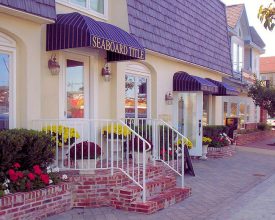 Free-Standing Canopy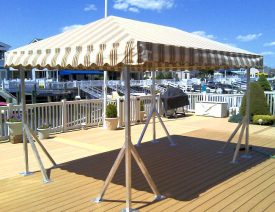 Free standing UV protection solutions are frequently required when there is little or nothing to install an 'extension' type awning to. These can be fabricated into just about any shape and size you need.